GANDHINAGAR/SURAT/VADODARA/RAJKOT: Deputy chief minister and state health minister Nitin Patel said on Wednesday that a multi-pronged strategy to combat the Covid-19 pandemic is yielding results in Gujarat — the recovery rate has improved from 30% in March-April to 70% as of date. He added that the weekly death rate has fallen from 6.5% in March-April to 1.5% now.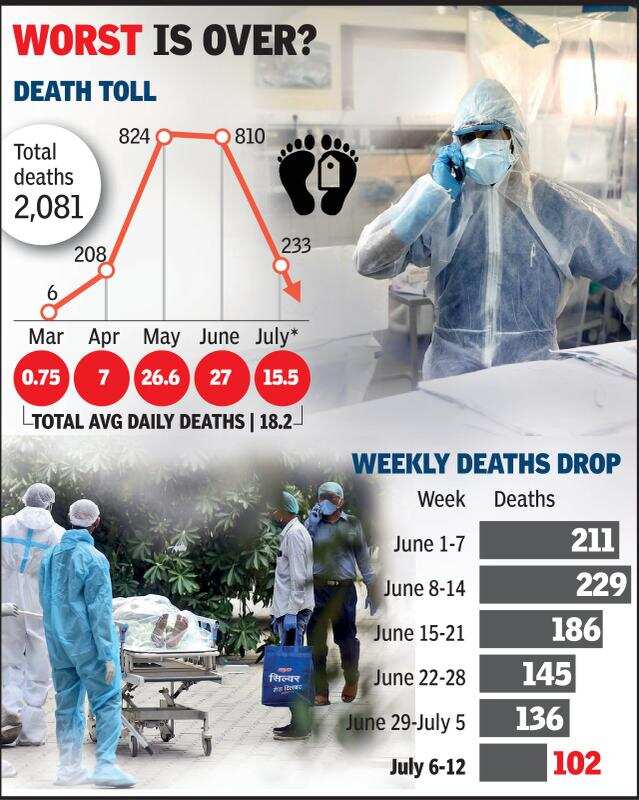 The DyCM said that the Gujarat model has caught the attention of the apex court of India. "The Supreme Court has also recommended that the Gujarat model of providing Covid care can be adopted by other states," he said.
Elaborating on the Gujarat model of Covid-19 containment, the DyCM lauded initiatives like 'Dhanvantari Raths' or mobile medical clinics at people's doorsteps and the government move to reserve 50% of private hospital beds for Covid-19 patients for speedy and quality treatment.
Patel said that a total of 597 hospitals with 42,051 beds have been designated for Covid care. Currently, 3,250 ICU beds and 2,231 ventilators are available for Covid patients.
Meanwhile, doubts were cast from many quarters over the low death figures in the state. This is especially the case in Surat, where photos of dead bodies lined up in the waiting lane at crematoriums, have gone viral.
While Surat Municipal Corporation data pegged 320 people have succumbed to Covid till July 15 with average nine deaths since July 1, various groups involved in disposing of positive and suspected Covid-19 deaths say they have handled over 900 dead bodies by following the 'Covid-19 guidelines in the city.
"We declare Covid-19 deaths according to the ICMR guideline. If the victim had tested positive and had no other major co-morbidities, then the patient is considered in Covid-19 death category. We are simply following the guidelines," said Dr Ashish Naik, deputy municipal commissioner, health, SMC.
Principal secretary, health, Jayanti Ravi said that the ICMR guidelines direct governments to list the primary cause of death as Covid or non-Covid. "If a Covid-positive patient commits suicide or a Covid-positve patient dies of cardiac or stroke event with no Covid complications, such cases are excluded from Covid deaths. This does not mean that all people with co-morbidities are excluded from Covid deaths. This is not possible as earlier data analysis has said that 85% of Covid deaths had co-morbidities," said Ravi.
The Vadodara Municipal Corporation (VMC) had clarified on July 2 in its medical bulletin that deaths due to co-morbidities will not be considered as Covid deaths.
However, VMC medical officer (health) Dr Devesh Patel said that even in cases where a patient had co-morbidities like diabetes or hypertension, the deaths were counted as Covid-19 deaths, if the primary cause of death was Covid-19. In cases where deaths took place due to complications arising out of co-morbidities, the deaths were not counted as Covid-19 deaths.
Rajkot's city health officer, Manish Bhanderi, said, "There an international code of death assigned in every disease. These code standards are followed by the death audit committee and the same was done in the swine flu outbreak too. We are following the same procedure. Rajkot city has recorded 27 deaths due to Covid."