Union Home Minister Amit Shah and Defence Minister Rajnath Singh are also present in the meet
New Delhi: Prime Minister Narendra Modi held a video conference with chief ministers of all states on Thursday, in the wake of the coronavirus outbreak in the country and told the Chief Ministers that in next few weeks, testing, tracing, isolation and quarantine should remain focus areas.He highlighted necessity of maintaining supply of essential medical products,availability of raw material for the manufacture of medicines and medical equipment.
Union Health Secretary apprised dignitaries of rise in cases in India, the spread of cases from Nizamuddin Markaz, preparations to tackle medical cases arising out of further spread of the virus, Prime Minister's Office said about PM's meeting with Chief Ministers via video conferencing.
Union Home Minister Amit Shah and Defence Minister Rajnath Singh were also present in the meet.
This is the second such interaction in less than two weeks on the critical issue of the COVID-19 outbreak and related matters, and the first after the Central government imposed a 21-day nationwide lockdown from March 25. The last interaction took place on March 20.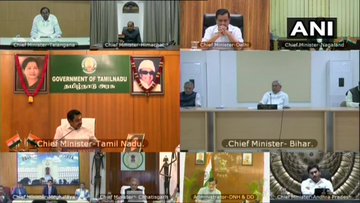 Prime Minister Narendra Modi has been continually making every possible effort to fight against the novel Coronavirus. He held discussions through video conferencing with the heads of various Electronic and Print Media Groups.
The conference comes in the backdrop of the increasing number of cases of COVID-19 patients across the country which is under 21-day lockdown to break the chain of transmission of the disease.
West Bengal Chief Minister Mamata Banerjee, Punjab Chief Minister Amrinder Singh, Maharashtra Chief Minister Uddhav Thackeray, Uttar Pradesh Chief Minister Yogi Adityanath are among those attended the conference, among others.
This is the second such meeting arranged via video conferencing between the Prime Minister and all the Chief Ministers.
On March 20, the Prime Minister also held similar interactions with the Chief Ministers via video conferencing. He had urged all states to work together in the fight against the deadly disease, saying "the threat of COVID-19 is common for all states".
India has registered 386 new cases of COVID-19 in last 24 hours, taking the tally to 1,637 in the country, the government said on Wednesday, and linked the sharp increase in number of cases to the Tablighi meet at Nizamuddin which has become the new epicentre of the COVID-19 pandemic in the country –from Kashmir to Tamil Nadu.